There are 3 earplug products available that vary in size slightly:
ISOLATE Ear Plugs - for normal / larger ear canals
ISOLATE MiNi Ear Plugs - for smaller ear canals or longer periods of use
SLEEEP & SLEEEP MAX Ear Plugs - these are a very similar size to the ISOLATE MiNi
The size of our ear canals isn't something we are readily aware of, everyone is slightly different.
We advise buying ISOLATE MiNi or SLEEEP unless you know you have larger ear canals.
3 different sized pairs of EARFOAMS are included with every pair of earplugs.
This allows you to try the different sizes to work out which suits you best.
THIS IS IMPORTANT TO NOTE:
When first trying start with the smallest size and work up, using larger foams does NOT help with these earplugs.
Please ensure you try all the foams until you find the perfect fit.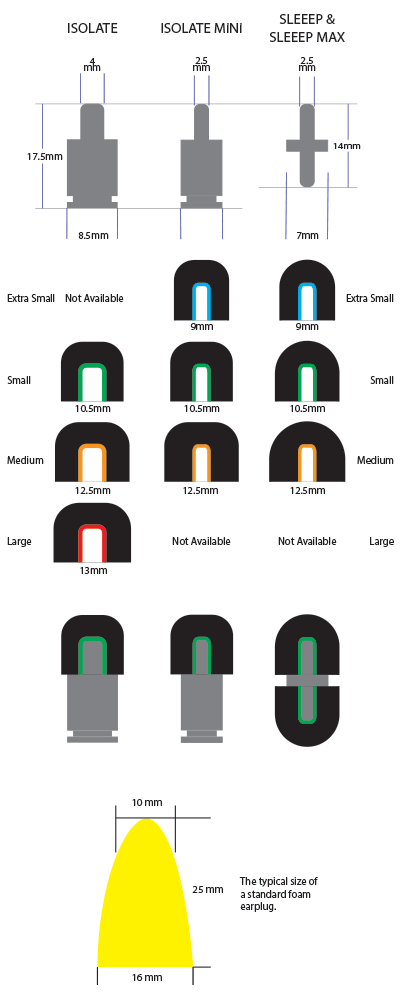 Ear Plug Comparison
Comparison Chart
Sleeep
Sleeep Max
Isolate Mini
Isolate Mini Pro
Isolate
Isolate Pro
Both ends
4 in total
(2 per ear plugs)
Both ends
4 in total
(2 per ear plugs)
One end only
2 in total
(1 per ear plug)
One end only
2 in total
(1 per ear plug)
One end only
2 in total
(1 per ear plug)
One end only
2 in total
(1 per ear plug)
Natural Finish
Black
Denim Blue
Silver Pink
How to wear ISOLATE & SLEEEP Earplugs