ISOLATE® & ISOLATE® MiNi Aluminium Ear Plugs
---
Isolate are available in two size, Isolate & Isolate Mini.
Please check the size guide page for more information about which is suitable for you.
ISOLATE Ear Plugs block more frequencies than regular plastic and foam ear plugs solutions. For Isolate to be the most effective they are worn deeper inside the ear canal. Everyone's ear canals are different sizes though we find the Isolate MiNi are more suitable for most people and certainly for longer periods of use.
Please see the size guide info below or from the menu above.
30 day money back guarantee available, click for more info.
Click here for delivery information .
Description
Size guide information
What is included?
Description
Made from aerospace grade Aluminium.
Reduce noise and loud sounds to protect your hearing or for just peace and quiet.
ISOLATE® are unlike any other ear plugs as they block direct sound to your ear canal, rather than absorb like foam and plastic alternatives.
No annoying bass frequencies, days of muffled effect are over.
Use for Sleeping (blocking snoring!), Travelling, Motorcycling, Motorsport and Music Concerts. (for shooting we suggest Titanium)
Replacement EARFOAMS® available.
ISOLATE® Aluminium SNR 35 - Bass 29 / Mid 32 / High 35
Weight ISOLATE® 2.17grams / ISOLATE MiNi 1.43grams
Made in England and CE certified to BS EN 352-2-2002
ISOLATE® Ear Plugs are a revolutionary new approach to protecting your ears against noise by turning the world around us down without the muffled effect. Made from aerospace grade Aluminium these ear plugs are very light and durable though more importantly a better material for stopping noise getting down our ear canals.
It's not possible to stop our hearing completely, as we will always hear something through bone conduction vibrations from our skulls. However, using a metal instead of foams, plastics or silicone to block sound is more effective across all frequencies. Commonly the muffled effect from an ear plug is our reference to an ear plug working, with ISOLATE you don't get that, everything just sounds quieter.
ISOLATE Titanium Pro Ear Plugs are for those that require extra protection in louder environments or just want to know they are turned down the most.
Size guide information
There are 3 earplug products available that vary in size slightly:
ISOLATE Ear Plugs - for normal / larger ear canals
ISOLATE MiNi Ear Plugs - for smaller ear canals or longer periods of use
SLEEEP & SLEEEP MAX Ear Plugs - these are a very similar size to the ISOLATE MiNi
The size of our ear canals isn't something we are readily aware of, everyone is slightly different.
We advise buying ISOLATE MiNi or SLEEEP unless you know you have larger ear canals.
3 different sized pairs of EARFOAMS are included with every pair of earplugs.
This allows you to try the different sizes to work out which suits you best.
THIS IS IMPORTANT TO NOTE:
When first trying start with the smallest size and work up, using larger foams does NOT help with these earplugs.
Please ensure you try all the foams until you find the perfect fit.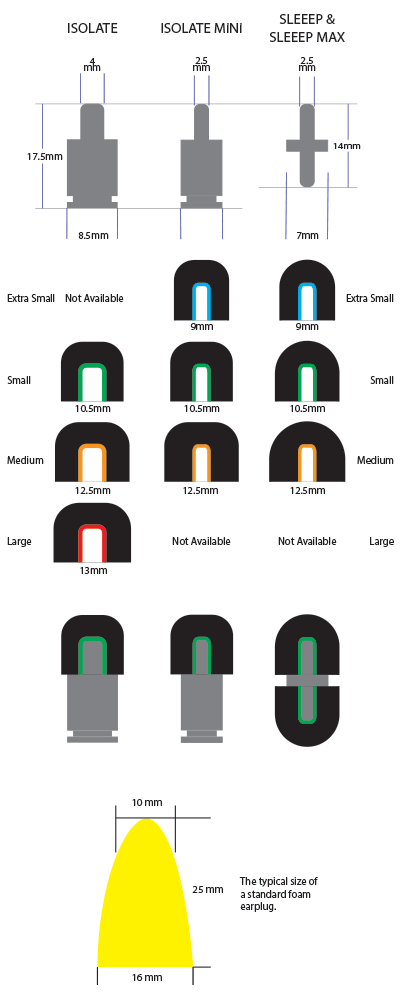 Ear Plug Comparison
Comparison Chart
Sleeep
Sleeep Max
Isolate Mini
Isolate Mini Pro
Isolate
Isolate Pro
Both ends
4 in total
(2 per ear plugs)
Both ends
4 in total
(2 per ear plugs)
One end only
2 in total
(1 per ear plug)
One end only
2 in total
(1 per ear plug)
One end only
2 in total
(1 per ear plug)
One end only
2 in total
(1 per ear plug)
Natural Finish
Black
Denim Blue
Silver Pink
How to wear ISOLATE & SLEEEP Earplugs
What is included?
Included in each pack:
1 x Pair of Alloy Metal ISOLATE® or ISOLATE® MiNi or SLEEEP Ear Plugs.
3 x Packs of different sized EARFOAMS® to decide which size fits best.
1 x Soft Carry Pouch.
Included with ISOLATE® Ear Plugs:
A Pair of small, medium & large ear plug foams.
Included with ISOLATE® MiNi and SLEEEP Ear Plugs:
A Pair of extra small, small & medium ear plug foams.
See Size Info tab for more info about the size differences.
ISOLATE & SLEEEP Ear Plugs are most effective when inserted into the ear canal, it is recommended to use the smallest foam that is comfortable and yet doesn't fall out. 
We don't suggest buying spare foams until you have tried using those included.
Pleased with purchase
Very good earplugs. Don't cancel out all noise but much better than anything I've used. Come in their own lovely pouch.
Just what I was looking for ...
I'd heard about them through musician friends, had a look at the online reviews, and decided to try them out. Couldn't be better for the price, and do what I want in rehearsals and sound checks. Seem to be reducing the dreaded tinnitus as well.
Amazing!
I'd been using foam ear plugs for a few months to block my partners snoring but they didn't seem to work! In desperation i ordered the Isolate Mini's and were shocked at how much they blocked out! They do not totally block all sounds as you can hear your alarm going etc but i can only just hear him snoring now! I've been sleeping so much better!
I would definitely recommend these ear plugs, however i do wish i'd bought the Sleeep ones as they may be a bit more comfortable when laying on your side!
Sheer Bliss!!!
I have carried all sorts of earplugs with me for what seems like a lifetime, some have been effective some have not, but always I found that they never did block the noise to the extent that I needed.
So although the Flare brand is a bit pricey,I thought that I would give them a go. And Cor!!! Blimey Guvnor!!! they are brilliant!!!
I love them, Just as much as I love my silence when I want it, They are the next best thing to having a switch behind my ears (ON&OFF).
Thank you Flare.
They work well
They are the perfect size, strong, replaceable pads - and they work well.
Initially skeptical but really pleased
I was skeptical. I was going to take an overnight train journey. They worked a treat, definitely no sound leakage. I also used them in a London Airbnb on a Main Street. Now booked for city centre nightclub area in Malaga for 10 days... got my trusty earplugs. Safe to say they have changed the relaxation aspect of my leisure time.
Can't reiterate enough how they've improved my sleep
These are the best ear plugs I have ever used, my partner snores really loud I am now getting full nights sleep again, I would highly recommend them.
Eliminate noises
After trying wax, silicone, foam, putty and every type of ear plug I could find, I decided to buy these and I am delighted. As a light sleeper, I needed to block out next doors new born, windy fence pannels and also the seaguls. These ear plugs did all three. Like all ear plugs, you have to get used to them, but for me, they 100% reduced those noises which leads to a better nights sleep.
Silence is golden
Isolate Mini. Silence is golden. Bless the beautiful silence.
Very pleased
We purchased them to go on holiday due to my husband's excessive snoring. We are away still and I am sleeping well which has not been possible for many years. The extra small suit us both best so we need to order some spares. Highly recommended. Would not travel without them again.
Since returning from our holiday, I am now using the earplugs at work in a large noisy Office environment to cut down on noise interference. They are very indiscreet to wear however enable me to concentrate due to a quieter working environment. Worth every penny.
Learn more about ISOLATE Ear Plug Protectors.
How to use ISOLATE Ear Plug Protectors.