ISOLATE® & ISOLATE® MiNi Titanium Ears Plugs
---
Isolate are available in two size, Isolate & Isolate Mini.
Please check the size guide page for more information about which is suitable for you.
ISOLATE Ear Plugs block more frequencies than regular plastic and foam ear plugs solutions. For Isolate to be the most effective they are worn deeper inside the ear canal. Everyone's ear canals are different sizes though we find the Isolate MiNi are more suitable for most people and certainly for longer periods of use.
Please see the size guide info below or from the menu above.
30 day money back guarantee available, click for more info.
Click here for delivery information .
Description
Size guide information
What is included?
Description
Made from aerospace grade Titanium, a denser alloy metal

than

aluminium, these are the pro choice from the ISOLATE® range.

Reduce noise and loud sounds to protect your hearing or for just peace and quiet.
ISOLATE® are unlike any other ear plugs as they block direct sound to your ear canal, rather than absorb like foam and plastic alternatives.
No annoying bass frequencies, days of muffled effect are over.
Use for Sleeping (blocking snoring!), Travelling, Motorcycling, Motorsport, Music Concerts and Shooting.
Replacement EARFOAMS® available.
ISOLATE® Titanium Pro SNR 36 - Bass 31 / Mids 33 / High 35
Weight ISOLATE® 3.32g / ISOLATE MiNi 2.16g
Made in England and CE certified to BS EN 352-2-2002
ISOLATE® Ear Plugs are a revolutionary new approach to protecting your ears against noise by turning the world around us down without the muffled effect. Made from aerospace grade Aluminium these ear plugs are very light and durable though more importantly a better material for stopping noise getting down our ear canals.
It's not possible to stop our hearing completely, as we will always hear something through bone conduction vibrations from our skulls. However, using a metal instead of foams, plastics or silicone to block sound is more effective across all frequencies. Commonly the muffled effect from an ear plug is our reference to an ear plug working, with ISOLATE you don't get that, everything just sounds quieter.
ISOLATE Aluminium Pro Ear Plugs are slightly less dense than the Titanium, though still very good at reducing noise at a lower price point.
Size guide information
There are 3 earplug products available that vary in size slightly:
ISOLATE Ear Plugs - for normal / larger ear canals
ISOLATE MiNi Ear Plugs - for smaller ear canals or longer periods of use
SLEEEP & SLEEEP MAX Ear Plugs - these are a very similar size to the ISOLATE MiNi
The size of our ear canals isn't something we are readily aware of, everyone is slightly different.
We advise buying ISOLATE MiNi or SLEEEP unless you know you have larger ear canals.
3 different sized pairs of EARFOAMS are included with every pair of earplugs.
This allows you to try the different sizes to work out which suits you best.
THIS IS IMPORTANT TO NOTE:
When first trying start with the smallest size and work up, using larger foams does NOT help with these earplugs.
Please ensure you try all the foams until you find the perfect fit.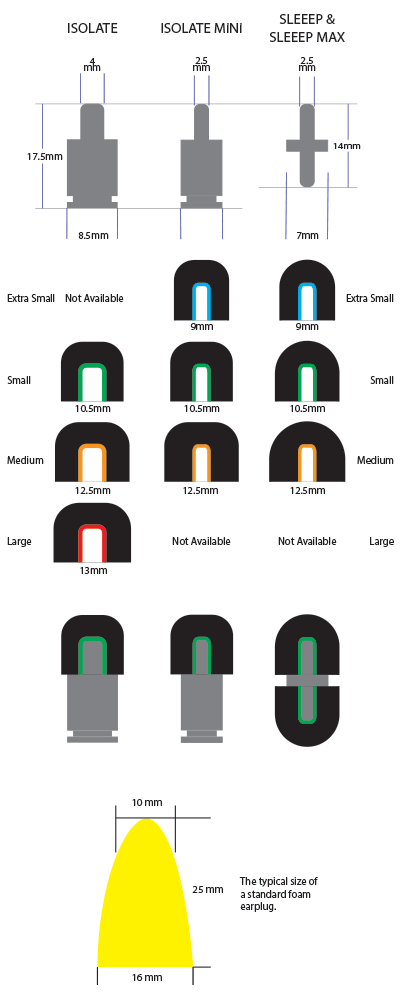 Ear Plug Comparison
Comparison Chart
Sleeep
Sleeep Max
Isolate Mini
Isolate Mini Pro
Isolate
Isolate Pro
Both ends
4 in total
(2 per ear plugs)
Both ends
4 in total
(2 per ear plugs)
One end only
2 in total
(1 per ear plug)
One end only
2 in total
(1 per ear plug)
One end only
2 in total
(1 per ear plug)
One end only
2 in total
(1 per ear plug)
Natural Finish
Black
Denim Blue
Silver Pink
How to wear ISOLATE & SLEEEP Earplugs
What is included?
Included in each pack:
1 x Pair of Alloy Metal ISOLATE® or ISOLATE® MiNi or SLEEEP Ear Plugs.
3 x Packs of different sized EARFOAMS® to decide which size fits best.
1 x Soft Carry Pouch.
Included with ISOLATE® Ear Plugs:
A Pair of small, medium & large ear plug foams.
Included with ISOLATE® MiNi and SLEEEP Ear Plugs:
A Pair of extra small, small & medium ear plug foams.
See Size Info tab for more info about the size differences.
ISOLATE & SLEEEP Ear Plugs are most effective when inserted into the ear canal, it is recommended to use the smallest foam that is comfortable and yet doesn't fall out. 
We don't suggest buying spare foams until you have tried using those included.
Great ear plugs
I am very happy with how they fit. Very comfortable when you get used to putting them in and I even sleep in them as my partner snores loudly.
Very good quality and I would recommend.
The customer service is also great and they provided me with some advice on fitting and answered my questions. Very happy.
Titanium Mini Pro Ear Plugs
These are perfect for wearing in the garden whilst neighbours are strimming or using their chain saw. I also used them whilst away on holiday when birds were squawking outside the window. I still heard the alarm ring and I can still hear my dogs bark. I thought I would need the extra small ear foams as I have small ears but they didn't block any sound out at all and it was the small ear foams that worked for me. I also bought the lanyard because I don't want to lose them.
Good ear plugs for concerts
Very comfortable and neat, good for loud concerts because they appear to attenuate all frequencies similarly. Perhaps if they blocked out more sound then I would have awarded a higher score.
Great purchase
Protects my ears from loud noises as well as being extremely comfortable.
The Best ear plugs out there!
My problems started when we had new neighbours move in about 5 weeks ago- they are so noisey and have a dog that never seems to shut up- i tried wax, foam, rubber and all other manner of types of ear plugs but none of them worked at all! I needed to sleep really badly and was starting to get sick from not sleeping which with my health problems was really bad news. I was recommended ISOLATE PRO ear plugs by a freind and to start with was a bit reluctant to get any as they were more expensive then any other type of ear plug and were so tiny- i thought, surely they can't make a diffrence? turns out they can! I bought a pair of Pro mini titanimum ear plugs..they arrived in good time and i was very impressed with the advice and online service i was given by the ISOLATE ear plugs team. Because they sit in so much deeper into the ears then any other ear plug, to start with they made my ears pretty sore but I stuck with them and so glad i did- when put in correctly, they block out 95% of noise and i can no longer hear cars coming and going outside or them talking through the walls or them banging doors early in the morning. I am now getting enough sleep to do my work normally thanks to ISOLATE ear plugs and the world just seems so much more peaceful at night with them in. ofcourse they can't stop all noise so i can still hear the dog barking but the sound is a lot more distant and just softer..soft enough for me to fall back asleep quickly and not be woken up by it again. I now totally depend on my ISOLATE ear plugs to sleep and don't know what i would do without them.....so glad I got a pair and there well worth the money!
Awesome
Can't believe they actually work. I have slept well every night since I bought these. For 10 years I have put up with my husbands snoring and teeth grinding, in fact I ended up sleeping in spare room most of the time. I was a bit doubtful but I cannot tell you how they have changed my life. I feel a totally different person now that I am having a good nights sleep in the same bed as my husband! One of the best things I have ever bought, AWESOME and have recommended them to anyone who mentions a snoring partner. Thank you so much,
Awesome ear plugs!
These ear plugs are awesome! I am no longer kept awake by my husband's chronic snoring! I would recommend these ear plugs to anyone, well worth the money!
Brilliant ear plugs!
Had the best nights' sleep on a ferry last night and am proactively promoting my new Flare titanium ear-plugs to the guys at Le Mans. They're simply brilliant!!!!
Great earplugs - clear sound attenuation
The best thing about these earplugs is that they allow you to hear more or less what you normally hear, but at a much lower volume. As a musician that is a major bonus as only £200 ear plugs used to do that, until now. #TitaniumPlugs
Isolate titanium pro ear plugs
I recently purchased a pair of isolate titanium pro ear plugs for using whilst clay pigeon shooting, for the past 2 years or so I have used a various assortment of ear protection from foam ear plugs to electronic impact ear protectors of which are good but irritated my ears. I fitted the titanium pros with the ear foams which suited me best and found that they were really comfortable. When I tried them shooting they worked really well and I am very pleased with them, you didn't know they were there. I also wore them at my stepsons 40th birthday party to suppress the loud music and recently wore them on board a flight to Malta to Help combat cabin pressure. Overall I am very pleased with the isolate titanium pro ear plugs I purchased and would recommend them.
Learn more about ISOLATE Ear Plug Protectors.
How to use ISOLATE Ear Plug Protectors.