SLEEEP® Earplugs & SLEEEP® PRO Earplugs
---
SLEEEP Ear Plugs block more frequencies than regular plastic and foam ear plugs solutions. For SLEEEP to be the most effective they are worn deeper inside the ear canal. Everyone's ear canals are different sizes though we find the SLEEEP are more suitable for most people and certainly for longer periods of use.
Please see the size guide info below or from the menu above.
30 day money back guarantee available, click for more info.
Click here for delivery information .
Description
Size guide information
What is included?
Description
SLEEEP® are made from aerospace grade aluminium.

SLEEEP® PRO are made from aerospace grade titanium.

Reduce the noise of snoring and other disturbing background noise so you can get a peaceful nights sleep.

SLEEEP® earplugs are unlike any other earplugs as they block direct sound to your ear canal, rather than absorb like foam and plastic alternatives.

No annoying bass frequencies, the days of muffled effects are over.

Includes a set of Extra Small, Small and Medium domed tip EARFOAMS® so you can try all sizes before deciding on the best fit.

Replacement 

EARFOAMS® available.
SLEEEP® ear plugs are designed to help you have the best nights sleep! Made from aerospace grade aluminium that has been anodised and worn with pillow-soft memory foam tips the earplugs are light and durable, though more importantly, the metal stops noise getting down our ear canals. 
It's not possible to stop our hearing completely, as we will always hear something through bone conduction vibrations from our skulls. However, using a metal instead of foams, plastics or silicone to block sound is more effective across all frequencies. Commonly the muffled effect from an ear plug is our reference for an ear plug working, with SLEEEP® ear plugs you don't get that, everything just sounds quieter. Specifically designed for sleeping, the dual tips also give increased comfort when sleeping on your side.
SLEEEP® PRO Titanium ear plugs offer even greater noise reduction for those who want maximum noise reduction, this is achieved due to titanium being a denser metal than aluminium.
Size guide information
There are 3 earplug products available that vary in size slightly:
ISOLATE Ear Plugs - for normal / larger ear canals
ISOLATE MiNi Ear Plugs - for smaller ear canals or longer periods of use
SLEEEP & SLEEEP MAX Ear Plugs - these are a very similar size to the ISOLATE MiNi
The size of our ear canals isn't something we are readily aware of, everyone is slightly different.
We advise buying ISOLATE MiNi or SLEEEP unless you know you have larger ear canals.
3 different sized pairs of EARFOAMS are included with every pair of earplugs.
This allows you to try the different sizes to work out which suits you best.
THIS IS IMPORTANT TO NOTE:
When first trying start with the smallest size and work up, using larger foams does NOT help with these earplugs.
Please ensure you try all the foams until you find the perfect fit.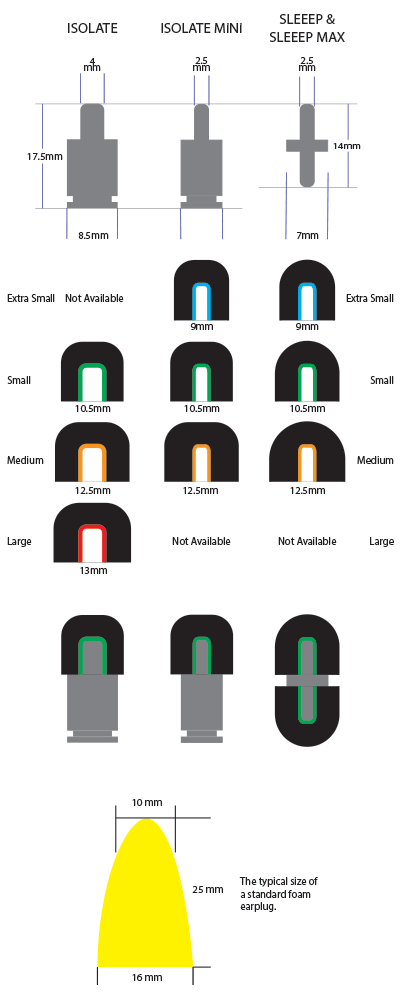 Ear Plug Comparison
Comparison Chart
Sleeep
Sleeep Max
Isolate Mini
Isolate Mini Pro
Isolate
Isolate Pro
Both ends
4 in total
(2 per ear plugs)
Both ends
4 in total
(2 per ear plugs)
One end only
2 in total
(1 per ear plug)
One end only
2 in total
(1 per ear plug)
One end only
2 in total
(1 per ear plug)
One end only
2 in total
(1 per ear plug)
Natural Finish
Black
Denim Blue
Silver Pink
How to wear ISOLATE & SLEEEP Earplugs
What is included?
Included in each pack:
1 x Pair of Alloy Metal ISOLATE® or ISOLATE® MiNi or SLEEEP Ear Plugs.
3 x Packs of different sized EARFOAMS® to decide which size fits best.
1 x Soft Carry Pouch.
Included with ISOLATE® Ear Plugs:
A Pair of small, medium & large ear plug foams.
Included with ISOLATE® MiNi and SLEEEP Ear Plugs:
A Pair of extra small, small & medium ear plug foams.
See Size Info tab for more info about the size differences.
ISOLATE & SLEEEP Ear Plugs are most effective when inserted into the ear canal, it is recommended to use the smallest foam that is comfortable and yet doesn't fall out. 
We don't suggest buying spare foams until you have tried using those included.
Learn more about ISOLATE Ear Plug Protectors.
How to use ISOLATE Ear Plug Protectors.